Proverbs 25:2  It is the glory of God to conceal a thing: but the honour of kings is to search out a matter.
25 x 2 = 50 Fifty is the Pentecost the beginning of the HOLY SPIRIT falling upon HIS Church and empowering the believers; it is this manifestation of G-d's Spirit to equip the church to do battle against his enemy. The angels desire to look into this transformation of man for they cannot experience the new birth without becoming as we are.  CLUE:  When Israel became a nation our technology began to increase as did the number of abortions.   The devil is twisted, double minded unstable in all his ways he needs the technology but he doesn't like the way we are bringing it.
Could Jesus have asked HIS angels to come into the end harvest and if HE did how many would have refused him?
My stepfather was a carpenter a man I truly loved, unfortunately, he was also an enabler. He enabled his alcoholic in doing so she never became free of her sickness there was no need for her to repent because he was always going to be there for her. In the end, he caught on and thanks to her Alzheimer's she gave it up. She went to church whenever he went the last few years of her life. She began singing to herself so others could hear who were around her.  A simple melodic LA, LA,  LA, and I begged G-d to give her a place in heaven, and when I get there, I would keep her out of his hair.  If all she does for all eternity is sit among the Choir of Angel's going LA, LA, LA it is better than the alternative. It was that crying out to G-d it was that promise which helped me to see the purpose of the covering Cherub.
You get them to repent, or you keep them out.
On earth, as it is in heaven, don't be like the heathen with repetitious prayer. Being repetitive is insanity to think to do A.B.C. will ever bring about R.E.V.I.V.A.L.  A.B.C. will always leave you D.E.F. and B.L.I.N.D. Do as Jesus instructed and you will have R.E.V.I.V.A.L. Call no man Father and accept there is no longer any need for any priesthood within the church. Jesus is and was the final offering.  We are called by Peter all Royal Priests who believe and inspected thoroughly the sacrifice.
Protestants are not always going to be here for Catholic's the way they see it we are going to be eliminated when China takes over in America, and they will continue to thrive as we are arrested for crimes against the state.  The truth is rapture will remove the loyal followers and leave the traitors behind.
The Holy Spirit in us lets us know HE is in us and that we do not need relics or crucifixes to remind us of what HE accomplished at the cross that is why HE is in us constantly enhancing the relationship making us more into the image of HIS SON.  When a man is made new and restored, it is a moment you will never forget.   The bread and the wine our communion is a continued remembrance of that finished work it is not to re-sacrifice him again but to remember the sacrifice HE made for us. Transubstantiation is a priesthood hocus pocus which make the sheep dependent and keep them in bondage to the very thing Christ came to deliver us from. Satan began the priesthood to honor false gods and make slaves of those who reject those gods. If you wanted a good place in society, you obeyed the delusional. The true G-d is not a delusion it is my call to prove that.
James 5:13-20  Is any among you afflicted? let him pray. Is any merry? let him sing psalms.  (14)  Is any sick among you? let him call for the elders of the church; and let them pray over him, anointing him with oil in the name of the Lord:  (15)  And the prayer of faith shall save the sick, and the Lord shall raise him up; and if he have committed sins, they shall be forgiven him.  (16)  Confess your faults one to another, and pray one for another, that ye may be healed. The effectual fervent prayer of a righteous man availeth much.  (17)  Elias was a man subject to like passions as we are, and he prayed earnestly that it might not rain: and it rained not on the earth by the space of three years and six months.  (18)  And he prayed again, and the heaven gave rain, and the earth brought forth her fruit.  (19)  Brethren, if any of you do err from the truth, and one convert him;  (20)  Let him know, that he which converteth the sinner from the error of his way shall save a soul from death, and shall hide a multitude of sins.
I have been in services where ministers call the sick down to pray over them though we see this as the role of the minister it is not done as prescribed in the scripture above. The sick one in the passage steps out in faith asking the elders to pray we see there is trust in the word on the part of the person. It is our faith in the word of G-d and the Son of G-d the living word that brings about healing if done in faith.  It is not in men or a man calling them out.  I do not deny words of knowledge.  I do have a skeptical eye on the way the enemy can work to lead astray the seekers of manifestations.
When I was led by the LORD to find what was being hidden in Egypt Jesus said to me "The devil could not hide anything from me. "  So when I see a man who behaves spiritually,  speaks spiritually but ignores the James 5:13-20 passage and says I feel a pain in my left shoulder. How do I know that the same spirit who gave it to the individual is not making it known to the minister to make him seem like a more anointed man of G-d?  Test the spirits are they pro-Nazi which can be seen as supporting a priesthood that should not even exist. I would say pray that their eyes will be open and that G-d would afflict them until they do.
I will be happy when every knee will bow, and every tongue confesses that Jesus Christ is LORD add to that an admission HIS honor is worth the world, and we have a recipe to understanding what it is all about.  HE is a great G-d we serve.
Some will quickly jump on the passage about a house divided cannot stand? So why would a devil cast out a devil? Just like a group of priests that shouldn't exist can perform exorcisms it's all an elaborate show to keep the deceived coming back for more.
Here are two men of the same faith divided against themselves because neither one knows Jesus or the will of G-d they were baptized as babies and many think that alone is all one needs they ate a white round wafer and was told it was the body of Jesus. So when asked did they receive Jesus the answer is yes,  for some, it's every day. They sit in awe of the mystical magic show. While they continue to pray to other (saints) circumventing the very purpose of Christ and HIS finished work.
China will one day walk right into America and take it over and who is it that we let give it to them? I can't serve both Jesus's I can only serve the one who came in the flesh and is the Son of G-d and who completed HIS work on the cross. My savior has risen, and HE lives in me. I don't want men thinking they have power over HIM or me. They hated Jesus because they could not control HIM or get HIM to do as they wanted and they are going to hate me. I was raised in a Catholic family with lots of rejection so bring it on. There are ten kings that give power to one,  so where are our five Protestants?
Mao was a sexual deviant; he believed sleeping with young girls kept him young.  The church that supports China has no problem with sex and children. That is why Chinese Communism is better than Russian Communism.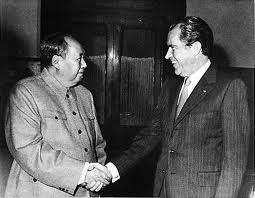 We see that in James 5:13 if there is any afflicted which is not a sickness they are to pray. Pain as sad as it is draws us to a deeper prayer life we should draw nearer to G-d not further.  In doing so we may find a particular area of our lives G-d is trying to have us change.  Our affliction may be due to the foods we ingest or the lack of food of G-d's word.  When I went through my divorce, I ran all over the place seeking help from others only one particular family to me kept insisting I pray.  I married a version of Gomer not as drastic as she was, but her father like Gomer's was to blame, oddly enough Gomer's father's name was Diblaim.
Jesus healed all those who were sick when HE walked the earth. There is only one most high G-d the others gods are delusional wannabes. Before man was created, the angels worshiped HIM in heaven, but like many who lack faith, their free will insisted on seeing HIM. G-d credited the work of creation to HIS SON. For without Jesus who would we follow to place us back on the path of truth and righteousness, what man is greater than Jesus?
It is because of Jesus we have life; it is because of the rebellion of free will that G-d made man.  What the devil meant for evil G-d means to turn it into good.
Jeremiah 4:27-28  For thus hath the LORD said, The whole land shall be desolate; yet will I not make a full end.  (28)  For this shall the earth mourn, and the heavens above be black: because I have spoken it, I have purposed it, and will not repent, neither will I turn back from it.
The angels grew jealous of this invisible Son, when the covering for the Son came,  the jealousy turned towards him.  The first coat of many colors we know was turned against G-d and led the rebellion.
So why have I singled out this passage James 5:13-20? Like in a marriage vow we promise to love a person for better, for worse, for richer, for poorer, in sickness and in health, to love and to cherish, till death do us part.  This may not be the best example of explaining there is a difference between affliction and sickness  When we come to Christ we are making a vow we are saying my life is no longer my own but HIS to do as HE wills. He begins cleaning house. Jeremiah 29:11  For I know the thoughts that I think toward you, saith the LORD, thoughts of peace, and not of evil, to give you an expected end.
We will enter HIS courts with praise and laughter when we as the body rise and crush the head of the serpent.
Jones Town Guyana started out as a Pentecostal movement they were jumping and dancing and even having faith healings.  They chose to go a socialist route, and when the Pilgrims came to America, they tried that and G-d did not bless it.  If you do not work,  you do not eat. G-d detests the sluggard, and you never see the children of G-d begging for bread.
Opening the door to the devil is a bad move he just doesn't want a small space in the attic he want's it all.  You can say you love the Catholic's, but in reality, you may be enabling them to miss heaven by following their blind guides.   Once he has you believing the Emporer's new clothes were hand picked by G-d, you are no longer building the G-d of heavens Kingdom.  America before the Emporer and his new priesthood, we had the real Jesus as our Nations National Treasure.
Brother Abel