Like shooting your own foot the enemy severed his own head…Fumbling the ball so that the Protestants may intercept.  What happened to Papal infallibility?  Their god made a mistake with Benedict,  if I recall America once had a Benedict as well. It is now our turn to shine! America was designed to set them free in preparation to resurrection.
[spreaker type=standard width=100% autoplay=false episode_id=4136536]
Genesis 3:14-15  And the LORD G-d said unto the serpent, Because thou hast done this, thou art cursed above all cattle, and above every beast of the field; upon thy belly shalt thou go, and dust shalt thou eat all the days of thy life:  (15)  And I will put enmity between thee and the woman, and between thy seed and her seed; it shall bruise thy head, and thou shalt bruise his heel.
Matthew 5:14-19  Ye are the light of the world. A city that is set on an hill cannot be hid.  (15)  Neither do men light a candle, and put it under a bushel, but on a candlestick; and it giveth light unto all that are in the house.  (16)  Let your light so shine before men, that they may see your good works, and glorify your Father which is in heaven.  (17)  Think not that I am come to destroy the law, or the prophets: I am not come to destroy, but to fulfil.  (18)  For verily I say unto you, Till heaven and earth pass, one jot or one tittle shall in no wise pass from the law, till all be fulfilled.  (19)  Whosoever therefore shall break one of these least commandments, and shall teach men so, he shall be called the least in the kingdom of heaven: but whosoever shall do and teach them, the same shall be called great in the kingdom of heaven.
Exodus 20:3-6  Thou shalt have no other gods before me.  (4)  Thou shalt not make unto thee any graven image, or any likeness of any thing that is in heaven above, or that is in the earth beneath, or that is in the water under the earth:  (5)  Thou shalt not bow down thyself to them, nor serve them: for I the LORD thy G-d am a jealous G-d, visiting the iniquity of the fathers upon the children unto the third and fourth generation of them that hate me;  (6)  And shewing mercy unto thousands of them that love me, and keep my commandments.
Revelation 17:5-6  And upon her forehead was a name written, MYSTERY, BABYLON THE GREAT, THE MOTHER OF HARLOTS AND ABOMINATIONS OF THE EARTH.  (6)  And I saw the woman drunken with the blood of the saints, and with the blood of the martyrs of Jesus: and when I saw her, I wondered with great admiration.
un·faith·ful
[uhn-feyth-fuh
l] Show IPA
adjective
1. not faithful; false to duty, obligation, or promises; faithless; disloyal.
2.not sexually faithful to a spouse or lover.
3.not accurate or complete; inexact: an unfaithful translation.
4. Obsolete . unbelieving; infidel.
Origin:
1350–1400; Middle English unfeithful.  See un-, faithful
Related forms
un·faith·ful·ly, adverb
un·faith·ful·ness, noun
Synonyms
1. untrustworthy, deceitful, treacherous, recreant. 3. imprecise, untrue.
Deuteronomy 32:16-36  They provoked him to jealousy with strange gods, with abominations provoked they him to anger.  (17)  They sacrificed unto devils, not to G-d; to gods whom they knew not, to new gods that came newly up, whom your fathers feared not.  (18)  Of the Rock that begat thee thou art unmindful, and hast forgotten G-d that formed thee.  (19)  And when the LORD saw it, he abhorred them, because of the provoking of his sons, and of his daughters.  (20)  And he said, I will hide my face from them, I will see what their end shall be: for they are a very froward generation, children in whom is no faith.  (21)  They have moved me to jealousy with that which is not G-d; they have provoked me to anger with their vanities: and I will move them to jealousy with those which are not a people; I will provoke them to anger with a foolish nation.  (22)  For a fire is kindled in mine anger, and shall burn unto the lowest hell, and shall consume the earth with her increase, and set on fire the foundations of the mountains.  (23)  I will heap mischiefs upon them; I will spend mine arrows upon them.  (24)  They shall be burnt with hunger, and devoured with burning heat, and with bitter destruction: I will also send the teeth of beasts upon them, with the poison of serpents of the dust.  (25)  The sword without, and terror within, shall destroy both the young man and the virgin, the suckling also with the man of gray hairs.  (26)  I said, I would scatter them into corners, I would make the remembrance of them to cease from among men:  (27)  Were it not that I feared the wrath of the enemy, lest their adversaries should behave themselves strangely, and lest they should say, Our hand is high, and the LORD hath not done all this.  (28)  For they are a nation void of counsel, neither is there any understanding in them.  (29)  O that they were wise, that they understood this, that they would consider their latter end!  (30)  How should one chase a thousand, and two put ten thousand to flight, except their Rock had sold them, and the LORD had shut them up?  (31)  For their rock is not as our Rock, even our enemies themselves being judges.  (32)  For their vine is of the vine of Sodom, and of the fields of Gomorrah: their grapes are grapes of gall, their clusters are bitter:  (33)  Their wine is the poison of dragons, and the cruel venom of asps.  (34)  Is not this laid up in store with me, and sealed up among my treasures?  (35)  To me belongeth vengeance, and recompence; their foot shall slide in due time: for the day of their calamity is at hand, and the things that shall come upon them make haste.  (36)  For the LORD shall judge his people, and repent himself for his servants, when he seeth that their power is gone, and there is none shut up, or left.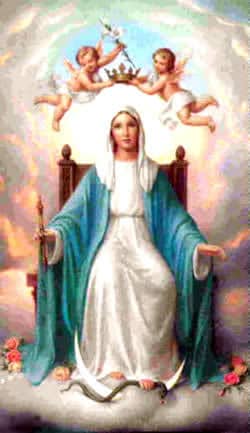 Jeremiah 7:18-19  The children gather wood, and the fathers kindle the fire, and the women knead their dough, to make cakes to the queen of heaven, and to pour out drink offerings unto other gods, that they may provoke me to anger.  (19)  Do they provoke me to anger? saith the LORD: do they not provoke themselves to the confusion of their own faces?
Jeremiah 44:16-27  As for the word that thou hast spoken unto us in the name of the LORD, we will not hearken unto thee.  (17)  But we will certainly do whatsoever thing goeth forth out of our own mouth, to burn incense unto the queen of heaven, and to pour out drink offerings unto her, as we have done, we, and our fathers, our kings, and our princes, in the cities of Judah, and in the streets of Jerusalem: for then had we plenty of victuals, and were well, and saw no evil.  (18)  But since we left off to burn incense to the queen of heaven, and to pour out drink offerings unto her, we have wanted all things, and have been consumed by the sword and by the famine.  (19)  And when we burned incense to the queen of heaven, and poured out drink offerings unto her, did we make her cakes to worship her, and pour out drink offerings unto her, without our men?  (20)  Then Jeremiah said unto all the people, to the men, and to the women, and to all the people which
had given him that answer, saying,  (21)  The incense that ye burned in the cities of Judah, and in the streets of Jerusalem, ye, and your fathers, your kings, and your princes, and the people of the land, did not the LORD remember them, and came it not into his mind?  (22)  So that the LORD could no longer bear, because of the evil of your doings, and because of the abominations which ye have committed; therefore is your land a desolation, and an astonishment, and a curse, without an inhabitant, as at this day.  (23)  Because ye have burned incense, and because ye have sinned against the LORD, and have not obeyed the voice of the LORD, nor walked in his law, nor in his statutes, nor in his testimonies; therefore this evil is happened unto you, as at this day.  (24)  Moreover Jeremiah said unto all the people, and to all the women, Hear the word of the LORD, all Judah that are in the land of Egypt:  (25)  Thus saith the LORD of hosts, the G-d of Israel, saying; Ye and your wives have both spoken with your mouths, and fulfilled with your hand, saying, We will surely perform our vows that we have vowed, to burn incense to the queen of heaven, and to pour out drink offerings unto her: ye will surely accomplish your vows, and surely perform your vows.  (26)  Therefore hear ye the word of the LORD, all Judah that dwell in the land of Egypt; Behold, I have sworn by my great name, saith the LORD, that my name shall no more be named in the mouth of any man of Judah in all the land of Egypt, saying, The Lord GOD liveth.  (27)  Behold, I will watch over them for evil, and not for good: and all the men of Judah that are in the land of Egypt shall be consumed by the sword and by the famine, until there be an end of them.